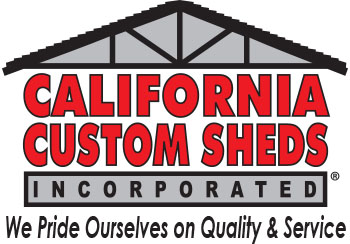 Ready to unload & build a Custom Storage Shed in 1 day.

MOST FREQUENTLY ASKED QUESTIONS
What does the base price of a shed include? Our prices include local delivery and installation on your property. Every shed includes ¾" Heavy-Duty floor, (1) 43" x 6'3"shed door, 50-Year Pre-Primed exterior plywood siding, 3-Tab Asphalt/Fiberglass Shingles, Local Delivery, and Installation on your level lot. Also includes plans for permit applications and a Rock-Solid warranty.


Is the shed built on my property? Yes. Nothing is pre-fabricated with our buildings. We deliver a fresh load of lumber, then cut and build everything on-site. This assures us that we can customize right on the spot if necessary.

Nothing is Pre-Fabricated. Everything is
completely cut and built at your site.






Where are your service areas? We serve Monterey county, Santa Cruz county, Santa Clara county, San Benito county and parts of San Mateo and San Luis Obispo Counties.


How is the shed built? How big is the truck? Our own employess who have over 15 years experience of building custom wood storage sheds will arrive in the morning with a un-cut load of raw materials, cut-out and build your California Custom Shed that you help design in 1 day.


Will you ship me a shed if I'm not in your service area? No. All of our sheds are built on site. The kits must be picked up here at our yard in Salinas.


How long does it take to construct the shed? Most sheds 1 day.


What is the time frame on the installation date? 1 to 4 weeks depending on the time of year.


Do we need a building permit? Most areas require permits for accessory structures over 120 square feet. Call your local building department for more information. Plans are included for permit jobs when you purchase a California Custom Shed.


Can I place the shed anywhere on my property? No. Every lot within all cities has different "setback & height requirements" you must abide by. Setbacks are distances you are allowed to place a shed from your house, property lines, and other existing structures. Your local building department officials are the only people that can give you the correct answers on what your particular setbacks are for your area.


Will the beams that are used for the floor decay? No. It is Pressure Treated wood which protects against termites and decay. We also place 2 1/2" tall CONCRETE PAVERS on the ground, under the beams insuring long life. We guarantee our floors for life!

Leveling Your Job Site






What do I need to do to the ground where the shed is going to sit? The ground preparation is the single most important ingredient we need to build you a quality shed. You must make an effort to level the site properly, which will ensure that we can build your shed without delay and no additional expenses to you. In order to finish such a quality shed in 1 day we must start with a flat, level and clean jobsite with plenty of room to work. We ask that you provide us with that.


Do I need to pour a concrete slab? No. The sheds are designed with Heavy-Duty Pressure Treated beams and 2x4 floor joists on 16" centers. Our floors can be placed on any level surface. Compacted dirt, drain rock, existing asphalt, or concrete slabs all work just fine.


What is the best way to level the site? If you don't have enough dirt available to cut from the high side and move to the low side, then the most efficient way to create a level pad is to spread and level 2" to 6" of drain rock over your existing ground. This creates an elevated building pad for your shed as well as adding better drainage away from the storage building.


My building site is 18" out of level. How do I level that? You must build a "Box" out of Pressure Treated 2x6 or 2x12 boards. Level the top of the box, and then fill it up with drain rock. This creates a safe, strong & sturdy foundation for such a heavy building.


Can you build a shed on a concrete slab with no wood floor? Yes. The slab must be poured to our specifications, with proper footings, anchor bolts, and must be the exact size of the shed you're going to purchase. Call us for more details before proceeding.


How much room is needed to build the shed? We must have access to three sides of the shed for ladders in order to safely construct a quality building. Usually a 24" space is enough on 3 sides. We also need at least 5' above the shed to install the roof sheathing & shingles. The Tall Gambrel needs more space around all the sides than other styles. Please call us for more details.


Can the doors be placed in a different location? Yes. You choose the location of the doors, windows, shelves and any other accessories that we offer.


Which direction does the center ridge of the roof line run? Any direction you choose. We completely customize each shed to fit your needs.


Do your sheds come standard with a roof overhang on all four sides? Yes! Our standard roof overhang on the "Elite Series" is 4" to 6". You may request up to an 8" overhang at no additional charge. This is esthetically pleasing to look at and also protects the shed and its contents from the elements.


Are the sizes on your price list all that you offer? No. We can customize a building to fit your particular needs if we have enough room to work.


Do you have other options or accessories available that are not shown? Yes! We customize our buildings and can add options to fit your needs. Some other options we offer that are not shown are; Wall heights can be lower or taller, roof pitch can be changed, overhangs, decks, framed openings, and interior walls can be added.


Which styles offer more headroom? The Peak roof has approximately 6" to 8" more headroom at the eave walls. We can add up to 16" of wall height to most of the roof styles for a nominal fee.


How tall are the sheds inside? Most sheds have over 6 feet of clearance to the lowest point. The highest interior point is anywhere from 7 feet to 10 feet, depending on what size and style you order. All heights can be customized to fit your needs.


Will you install my own windows? Yes. There is a charge for this service. We will frame, caulk, install, & trim your windows. The windows must have a nailing fin around the perimeter.


Will you install my own door? No. We will frame the opening for you to install your own door.


Does the shed have to be painted? Yes. The exterior siding is pre-primed and comes with a manufacturer 50-Year Warranty only if protected with paint. We offer this service the same day we build your shed if you wish.


Do the sheds come in a kit form so that we can install it ourselves? The largest kit available is a 10x12. Click here to learn more.
Building Permits, Zoning or Covenant searches (if required)

Site Preparation and Leveling

Provide proper clearance around shed for construction

If there are any other questions you would like answered, please call us at:

General Contractors License #826018
(831) 443-6163 --- FAX 831-443-5822
Toll Free 1-888-756-4237
728-I El Camino Real North, Salinas, CA 93907
Located on El Camino Real -N (Highway 101) & Ralph Lane
See Map

BUILT ON YOUR LOT IN ONE DAY!