CALIFORNIA CUSTOM SHEDS

This is a California Custom Shed we built in San Jose at a commercial building. The customer used one side for a Storage Shed while the other side is a Trash Enclosure for his dumpster per city codes. All built on a concrete foundation in 1 day. "Custom" is our middle name.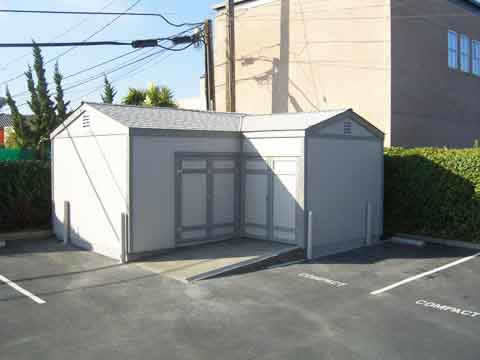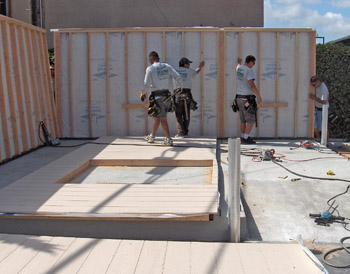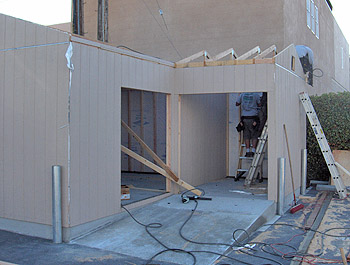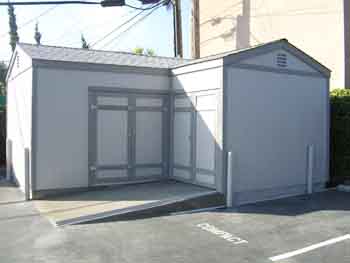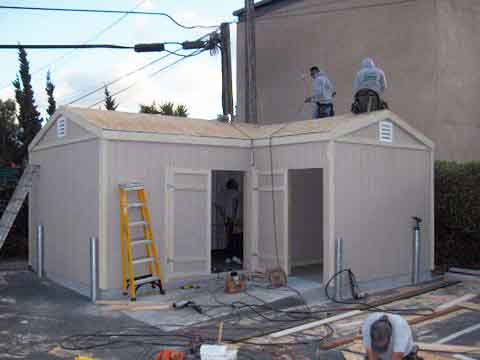 California Custom Sheds
Dear Jeff:
I would like to thank both your hardworking crew and yourself for the efficiency and quality everyone exhibited in constructing such a marvelous and aesthetically striking Storage Shed/Trash Enclosure at my office building. I also must credit your unmatchable Customer Service Relations throughout the process, which is obviously the cornerstore to your success.
Throughout the years, I have been involved in a lot of construction projects at my building and encountered many tradesmen dilemmas which have resulting in disheartening and unpleasant experiences. However, what separates California Custom Sheds® from these tradesmen is the amazing professional caliber and skill, workmanship, pride, and timely results your staff offers and consistently demonstrates from the initial sales process up through a thank you card for doing business.
Completing all work within one (1) day pursuant to the city permitted Architecture Plans was beyond my expectations and without doubt, an amazing honorable accomplishment. Now, I can enjoy a permanent fixture appreciable improvement which has enormous utility for years to come. Thank you for doing business with me! Friday, your work met final inspection & approval by the San Jose Building Department. Whenever you are in the area, please feel free to stop by and take some pictures for illustration on future customer projects.
Blum Plaza, LLC
San Jose, CA
Click to return to Shed photos or Testimonial Letters.


Contact California Custom Sheds for more information.

(831) 443-6163 --- FAX 831-443-5822
Toll Free 1-888-756-4237
728-I El Camino Real North, Salinas, CA 93907
Located on El Camino Real -N (Highway 101) & Ralph Lane
See Map

BUILT ON YOUR LOT IN ONE DAY!